Friday, January 7, 2022
January 7, 2022
As I just bought a new pair of running shoes I was not very keen to purchasing yet another stutted pair for icy winter conditions. Yet, as I found out last year, you really need ice studs if you want to go out on wet and icy conditions.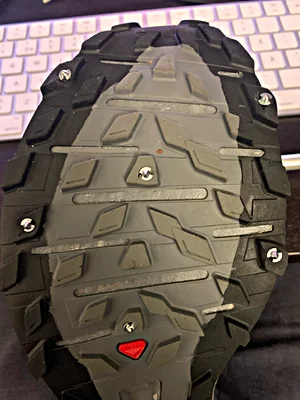 As an alternative to 185 EUR pair of shoes I opted to purchase a packet of ice studs for 25 EUR. This particular packet came with 20 small studs, just enough for a pair of shoes. The studs are installed with a special tool that comes with the package and fits into a regular 1/4" tool socket.
The installation is easy but takes a little bit of learning to get right. I tried both power drill and hand wrench, and got better results without the drill. You need to just find a good spot, apply plenty (meaning a lot) of pressure and keep the stud at correct angle at all times. When the flat part is flush with the rubber, you're done. It took me about 20 minutes to install all the studs to a pair of Salomon trail running shoes. Had I had a choice, I would've opted for a shoe with more rigid / less rubbery soul but I worked with what I got.
The end result feels a bit sketchy indoors and on clear pavement, but works great on snow and ice. You really feel the extra grip and the shoes aren't at all wobbly. The studs feel like they will hold perfectly if I don't need to do any crazy full-on cartoon stops.
After a couple of runs, I'd definitely opt for studded shoes over regular ones with any snowy and/or icy conditions. That said, if you run on trails or pavements that don't have ice, regular shoes will probably work better. YMMV.